To enhance opportunities for creative artists in the Shuswap
The third house is a metaphor. The third house is a place for artists, flighty things that they are, to come to for shelter and solace in a fragile landscape.
Peter Blacklock has spent his career in drama and education as a teacher, administrator, writer, and actor. Following his retirement teaching in the public school system of British Columbia, he completed his work writing a musical production built around the life of painter and writer, Emily Carr. The show was first produced as a festival piece in the Shuswap and the Okanagan.
Since then he has gone on to write numerous plays. His play entitled "A Very Silly Script" was produced by the Pend'Oreille Players in Newport, Washington and won the First Place Playwrights Award. Others of his plays are published through Big Dog Publishing in Florida and are available through them.
Peter is a great asset to the community in many different ways. He is multi-talented and well known in the area for the summer dinner theatre productions at Haney Heritage Village. He writes the musical plays based on local history, writes the lyrics and composes the songs for the musicals, and casts and directs it!
It was his creativity, boundless energy and passion for his art that founded Ida and Old Baldy's Seniors' Theatre in Salmon Arm and Blind Bay, and now keeps many of us entertained and enthused in the program year after year. In 2013 he received a grant from the Federal New Horizons Fund to produce a seniors' theatre handbook that's available online, for free, to anyone who wants to learn how to begin a seniors' theatre program in their own community.
Peter continues to write and is currently working on the scripts for two different plays. And, he is an active member of, and continues to perform through, Shuswap Theatre. Most recently, you can catch his act in "A Pack of Lies."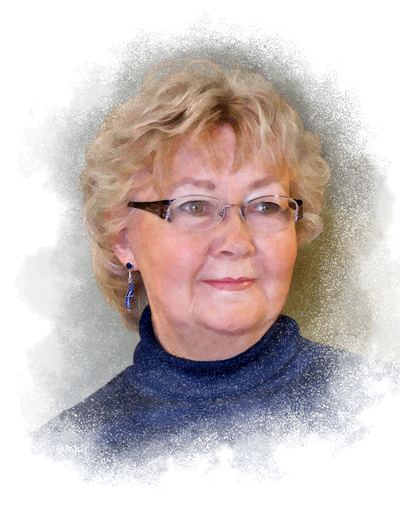 Joyce Sotski was a pioneer in interactive digital media. Her work as a developer-designer of interactive CD-ROMS and websites dates back to the early1990's. It began with film and video classes in university that shifted sideways into a new phenomenon called interactive new media. Some of her work — one project in particular that played with the more creative aspects of new media ingenuity — won significant national and international awards.
Her career history prior to interactive media includes an extensive 25 year career as a graphic artist in the printing industry and a summer stint creating the graphics for CBC Evening News in Regina.
Joyce has been passionate about the arts throughout her entire life. She works digitally as well as in oils, watercolours and graphite. In Saskatchewan she belonged to the Federation of Canadian Artists and has shown her work in the Rosemont Art Gallery at the Neil Balkwill Arts Centre as well as the Joe Moran Gallery in Wascana Place.
With her move to the Shuswap Joyce began to explore some of her other interests. She experimented with public speaking by becoming involved in Toastmasters and on occasion, emceed local events. In 2014 she worked with Ida and Old Baldy's Seniors' Theatre taking photographs and producing videos to illustrate the new handbook. Currently, she is exercising her creative muscles in writing and literature. This year she is the president of the Shuswap Writers Group.
GO BACK
© The Third House, 2015
Web design by Adria Interactive